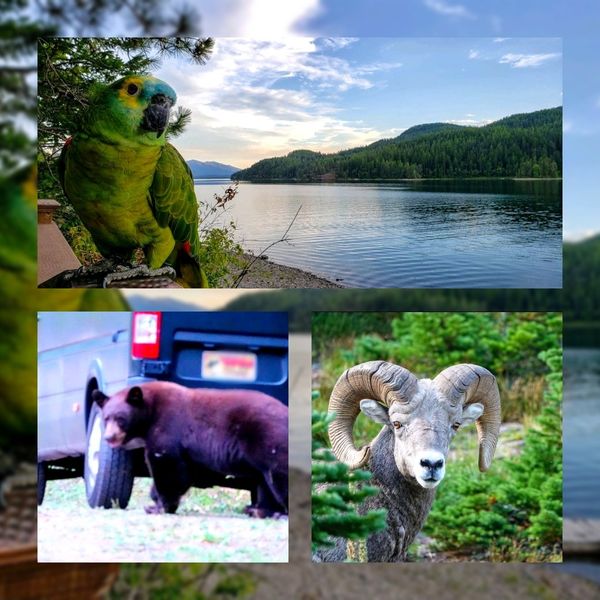 From the salty waters of the Gulf of Mexico, all the way up to the crystal clear waters of Northern Michigan, and Montana this trip has been nothing short of amazing so far. We are almost a month into our tour and it has been an adventure to say the least. Traverse City has become one of my new favorite cities, and not just because they have an awesome tea shop. Okay.. Well maybe that's ONE of the reasons, but not the reason you clicked on this link.. So let's get to it, and talk about animals.. 
Coco, our 42 year old Blue Fronted Amazon parrot visited the doctor and got a certificate that allowed him to travel into Canada. So we packed our van and made our way to Banff National Park. Canada however had other plans. The Canadian border agent didn't accept our certificate because our lovely vet gave us the wrong paper. I won't bore you with how many miles we had driven to get there, but know that it was A LOT. So we got back in line with our illegal parrot and hoped and prayed they would let us back in America. (Technically because we entered Canadian territory they could have kept him because he is a protected species.) Luckily for us, the American agents were cool and let us pass. That is how we ended up in Glacier National Park. 
Glacier is AMAZING. To be honest though, I had no idea what to expect. I had planned to be in Banff, so I had not done any research on Glacier yet. (Slackers anonymous party of one!) We got in line at the campground at 6am and, thanks to van-life, made coffee and breakfast while we waited in line for a camping site. It's so popular during the busy season that they have to do this same process every morning. Finally by 8ish we were the lucky last 2 people to get a campsite and this is where the real adventure begins... 
After canceling my Tour Du Mont Blanc hike because of a knee injury, I was determined to get back in the game. Mix that with some loving competition from Mark, and a Youtube video that made the Grinnell Glacier hike look easy, we were ready to explore. Youtube, like our vet, was very misinformed. I would do it again, and you should do it too, but it was NOT easy. I learned some very valuable things while on this hike. 1.When someone says,"Not much further!" they are lying. 2. Coming down hurts worse than going up. 3. Wearing the wrong socks can destroy your feet, and turn your toenails purple! I have never had bruised toenails like that, and I was a ballerina! 4. You don't have to wear those annoying bear bells.. just be near the people who have them on, and 5. Mountain rams do not give a single F. After deciding that I had the will to survive, and realizing that we had somehow added 2 extra miles on to our hike for a whopping 13miles, it was time to descend. We had no desire to be natures evening snack. This is where our hike took an unexpected turn. We were greeted by the biggest ram I had ever seen. He was standing in the middle of the path daring us to do something about it. He had total Gandalf, " You shall not pass" vibes about him. So Mark being the Tarzan incarnate that he is, decided to go off the path to try and outflank the ram.. Of course I followed him, because monkey see monkey do. (Sorry Mom) The only problem was that at least 15 other people decided to follow us as well. There was no election, but Mark was appointed our leader. The teacher in me kicked in, and I instructed everyone to stay together. The ram held us up for 20 minutes playing a cat and mouse game in which victory was measured in inches gained. After finally finding a whistle and making every "Candy Mountain Charlie" joke I knew, the ram decided he didn't like the bear mace in our hands and let us return on our adventure home all while serving up the best side I had ever seen. Two snake sightings later, a camera tripod turned into a walking stick, and all the daydreaming of drinking a lifetime supply of water, we made it back to our campsite and slept harder than I knew was possible. 
Last but certainly not least, our very own real life episode of curiosity killed the cat, and by killed the cat I mean " Raccoon got a face full of bear mace!" We have been super blessed by our friends here in Montana, and have been recording and writing new music in the most adorable little cabin on Swan Lake. This place is wild! Literally. Just the other day, a bear walked right up to our van as if it were parked in his favorite spot. He was walking down to the volunteer apple tree on the waters edge. We have had lunch while a bald eagle soared above us, and paddled across the lake while huge salmon and trout swam below. Ospreys, shooting stars, and rolling fog from the mountains have become something we look forward to like clockwork. We have gathered driftwood, and cut fallen branches for firewood to stay warm at night, and have watched the sun rise over the lake with coffee in hand every morning. It has been everything I hoped it would be and more. Every night while winding down we watch Star Trek, because we're those kids, and listen to the local raccoon as he finds new ways to get on the roof. We assume it is a raccoon and not a wild cat, because I need to sleep at night. One night after noticing our trusty bear mace had a tear in the packaging, we sat it outside by the front door so it didn't go off in the house. The next morning we discovered that our suspicions about our friend the raccoon where confirmed because we saw tracks all the way down to the water, and bite marks on the bottle. I felt a little guilty about what a bad night he must have had, but sure enough he didn't learn his lesson. He still comes back every night to say hello and see if we left him anything that won't explode in his face. Maybe he warned the bear, because we haven't seen him again. 
That's it for now. Hope you enjoy this post, and follow our others on our social media pages to see photos and here other stories. 
www.instagram.com/transitsoul